Paci's Cafe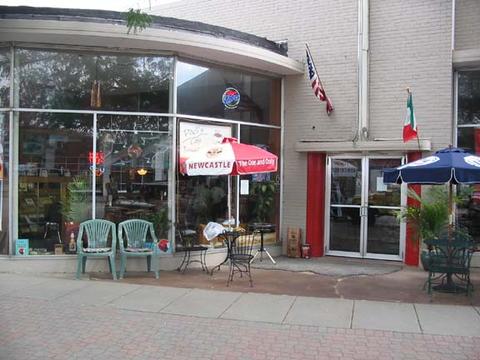 Where in North Kansas City does the Italian flag fly? At Paci's Café of course. Paci's is a touch of Sicily north of the river. It's the place for your morning espresso or your after work glass of wine.

Joe Paci, the owner, serves a complete range of coffee drinks, chai tea and sodas as well as beer and wine.

Most mornings he has pastries from le Monde Bakery down the street to go with the coffee. He has a fine selection of cigars (which he also enjoys) for the discriminating smoker. He also carries a wide variety of imported and domestic cigarettes and tobacco, including the entire American Spirit line.

The ambience is that of a small Italian café and one of the most enjoyable in the City. Currently, Paci's is displaying the work of five local artists including Jeremiah Carrell, Willard Brian Howeth, Angel Watt and Dave & Valerie Phillips whose stained glass piece "Meltdown" is displayed for sale in the front window, price $3800.00. We also have occasional musical entertainment!

Remember, at Paci's, the coffee is superb, the wine is reasonable, the cigar selection is out of this world and the beer is cold and the cheapest in town.
Joe, besides owning Paci's is a great guy. He is a cyclist who rides on the same Trek frame as Lance Armstrong (purchased from Bob Biscari at Biscari Brother's Bicycles,

http://www.biscaribrothersbicycles.com

. ), is crazy enough at 34 to play league baseball, go rock climbing and in general is an all round outdoorsman who appreciates the products he sells.
All police, fire, EMT and military personnel receive a 10 per cent discount!
We are sorry, but we do not accept credit or debit cards. Checks are acceptable with appropriate ID.


Paci's Cafe
101 Armour Road
North Kansas City, MO 64116
Open:
Monday & Tuesday 8.30AM-6.00PM
Wednesday & Thursday 8.30AM-11.00PM
Friday 8.30AM-1.30AM
Saturday 2.00PM-1.30AM
Closed Sunday
101 Armour Road, North Kansas City, 816.985.1157
Enter subhead content here